---
Next:
STEREOSCOPIC 3-D IMAGE
Up:
Multimodality Interactive Stereoscopic Image-Guided
Previous:
Multimodality Interactive Stereoscopic Image-Guided
---
For several years the surgical team at the Montreal Neurological Institute and Hospital (MNI) has been performing neurosurgery with the aid of direct image guidance. CT was the first modality employed[1]

[2], but when Digital Subtraction Angiography (DSA) and MRI became available these were also used to provide the surgeon with additional information for surgical procedures[3]. The clinical acceptance and effectiveness of these systems[4] have motivated us to provide the surgeon with additional tools allowing enhanced visualization of the patient's cerebral structure and aspects of brain function relevant to the particular procedure. Such tools are useful both during the surgical planning and in the operating room (OR) itself.
Approximately two years ago we introduced an interactive image guided surgery system (the ISG Viewing Wand; ISG Technologies Inc., Mississauga, Canada) into the OR and this system has now provided guidance during more than two hundred surgical procedures of various types. Fig. 1 shows an example of a wand-assisted procedure in which the probe is being employed to delineate the boundaries of incision required for an open craniotomy.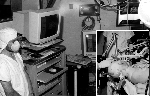 Figure 1: Click on image.
The ISG Viewing Wand is based on multiple-slice MRI or CT data sets and presents the surgeon with multiplanar reformats of the data and 3-D images reconstructed from the slices. A salient feature of this system is a probe that is held in the surgeon's hand and is also attached to the operating table via a mechanically linked arm. Transducers located in each of the arm's six joints allow the workstation to constantly monitor the position and orientation of the probe and display it's position with respect to tomographic or 3-D representations of the slice data set on the computer screen. A typical Viewing Wand screen presented to the surgeon is displayed in Fig. 2.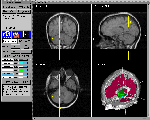 Figure 2: Click on image.
Recently we have extended the functionality of the Viewing Wand[5]

[6], firstly by allowing the display and interaction of images recorded using additional modalities (PET, DSA) and secondly by adding a stereoscopic display to provide realistic 3-D visualization. We summarize these additions in this paper before reporting further enhancements to this system, specifically the support for displaying and interacting with Magnetic Resonance Angiography (MRA) data sets and also the display of live video.
The ISG system is one of several image-guided surgical workstations available[7]. Others, using a variety of surgical probes to communicate positional information to the imaging workstation, have also been described[8]

[9]

[10]

[11].
---
Next:
STEREOSCOPIC 3-D IMAGE
Up:
Multimodality Interactive Stereoscopic Image-Guided
Previous:
Multimodality Interactive Stereoscopic Image-Guided
---