---
Next:
MRA
Up:
VISUALIZATION OF THE
Previous:
VISUALIZATION OF THE
---
At our institution cerebral angiograms are routinely acquired stereoscopically. Stereo views are obtained by using a C-arm based digital subtraction angiographic system and performing the angiographic sequence twice at gantry angulations separated by approximately seven degrees. We also use a system, equipped with a stereoscopic (dual focus) tube, that allows acquisition of both stereoscopic DSA and fluoroscopy.
In order to manipulate targets in 3-D space, we must establish the relationship between points seen in the images and the corresponding points in the 3-D volume. In the case of frame-based stereotaxy, we are able to use the fiducial markers, situated at specific 3-D locations, for this task. The fiducial marker system for DSA consists of pairs of plates located on the front, back and sides of the frame. Four steel pellets (0.5 mm diameter) are embedded in each plate at the vertices of a 70mm square. For a given projection, eight markers appear in the image: four from the plate closest to the x-ray tube and four from the plate on the opposite side. Registration is accomplished by first having the surgeon point to each frame-based fiducial using the probe, and then computing the rigid-body transformations that relate the two systems. Full details of this registration approach are given by Henri et. al.[4]. Once registration is achieved, the stereoscopic system is operated in a mode that simply tracks the position and orientation of the probe, then transforms coordinates from the probe to the frame and displays the probe as it relates to the angiogram floating in (stereoscopic) space. We have demonstrated elsewhere that a 3-D localization accuracy of

1mm may be achieved using both AP and lateral DSA images, or

1mm in plane and

4-5mm in depth using a single stereoscopic pair[4]. An example of a stereo pair of DSA images is shown in Fig. 5.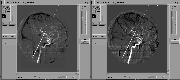 Figure 5: Click on image.
---
Next:
MRA
Up:
VISUALIZATION OF THE
Previous:
VISUALIZATION OF THE
---