Jean-Marc Lina, Ph.D.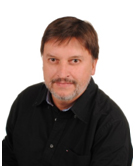 Contact Info
Professeur, Département de génie électrique, École de technologie supérieure
Biomed. Eng. Dep., McGill univ. (adjunct prof.)
Address: École de technologie supérieure, 1100, rue Notre-Dame Ouest, Bureau : A-2634, Montréal, Québec, Canada H3C 1K3
Phone: (514) 396–8688
Email: Jean-Marc.Lina@etsmtl.ca
Research Interests
His research interest include wavelets, learning algorithms, statistical modeling and entropic techniques in electromagnetic neuroimaging (MEG, EEG and NIRS) and electroretinograpy (ERG). He is currently involved in advanced signal processing in cognitive neurosciences (cortical sources associated with memory processes, cortical generators of sleep spindles) and clinical applications (high frequency oscillations in epilepsy, seizure prediction).